Bricklaying The Art - 3rd Edition 2000
The ultimate guide to bricklaying for the beginner
through to the professional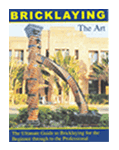 Magnificent front and rear cover, of spiral arch waterfall, built by author for the 5th Australasian Masonry Conference in 1998.
This fully illustrated brick manual has 560 step by step illustrations, includes fitting DPC in difficult positions, at roof lines on the rake and in single skin brickwork, also a section on barbecues, construction of mandella, easy pegging out the job on uneven ground with a calculator, complete brick kitchen made easy and handy maths and calculations for all brickwork including working out roof angles and pitches, combination brick steps and ramp, more on clay and concrete blockwork profiles and scaffolding, more on cavity brick, bonds and buttresses, a complete section on different barbecues, more on fireplaces, two storey and back to back, bay window set out and construction, brick compost bin, laying glass brick, A HANDY GUIDE FOR ANY TRADESMAN OR CONTRACTOR.
$120.00 postage and GST included.
Bricklaying Book - 2nd Edition 1994
For the beginner to the tradesman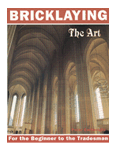 The fully illustrated brick manual everyone can understand.
Hello, I am writing to inform you of my new book on bricklaying 'Revised Edition' all first edition completely sold-out since its release 3 years ago. Some key areas covered are:
Fitting of plumbing and electrical into all brick constructions, complete fire-place set-out (including 2 storey) fitting of dampers, estimated bricks and mortar for house design. Extended brick guage now also in half mm, fitting DPC to problem areas, cavity brickwork, also laying cavity brickwork structually, bay-window set-out, fitting ant-cap, rectification of brickwork eg. fixing troublesome areas (cracking).
Ideal for the beginner, the manual for apprentices and a reference for the tradesman.
Fully illustrated, covers from day one, step-by-step brick and blocklaying, to laying the odd brick around the house, to letter-boxes, barbecues, to the advanced stages of arches and the delicate forming of fireplaces.
$58 postage and GST included.
Special Offer Two Books
2nd Edition and 3rd Edition for $150.00 includes postage and GST, and is a tax deduction.
---
© 2001 Peter Cartwright
Email: peterc@bricklayingbook.com